Benjamin Costello
MA PGDip BMus FRSA
CHORAL DIRECTOR
Ben has a strong track record as a choral director and workshop leader.
Present posts include:
Kingston Chamber Singers (2001 onwards)
Leith Hill Musical Festival (2014 onwards)
Previous posts include:
Worthing Choral Society (1997-2003, appointed aged 20)
London College of Music Chamber Choir (2000-03)
Kingston University Vox Choir (2005-07)
Thames Philharmonic Choir (2016-19)
Southampton Choral Society (2018-19)
Ben is also a Music Leader for HF Holidays.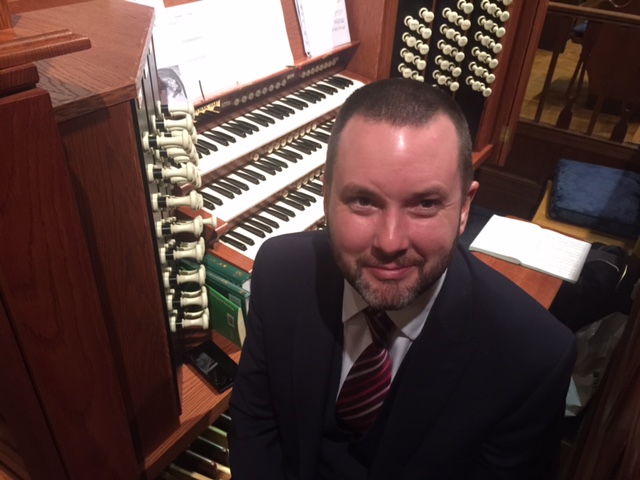 WORKSHOP LEADER
Ben is well-known as a workshop leader for choirs, leading days on themes such as opera choruses, musical theatre, acting through song, and developing good technique, and is happy to tailor specific all-day sessions to choirs on request.

Recent all-day workshops have included 'Musical Theatre', 'Opera Choruses', 'Acting through Song', 'Jazz Shakespeare', and specific works such as Purcell's Dido and Aeneas, and Dyson's The Canterbury Pilgrims.
Ben has guest-conducted, led workshops or accompanied for choirs/groups including:
Voices of Hangzhou Youth Choir (China)
Thames Philharmonic Choir
Southampton Choral Society
Fareham Philharmonic Choir
Da Capo Dansweiler (Germany)
Milton Keynes Chorale
St Paul's Knightsbridge Festival Chorus
English Arts Chorale
Finchley Children's Music Group
Kingston University Chamber Choir
Impromptu
Fulham and Hammersmith Choral Society
Capel Choral Society
Chichester Festival Theatre (community outreach)
Trinity Laban Show Choir
Sung with and played for Cantabile (The London Quartet)
MUSICAL DIRECTION & coaching
Ben has enjoyed a twenty-three year career as a musical director and singing coach. A reflective product of this has been his continuing work in musical theatre education at the highest level. Countless of his former singing students enjoy successful careers in the West End and beyond.
His broad work portfolio within the colleges includes musical direction, choral direction and arranging, singing teaching (with knowledge and use of Estill and other methods), vocal coaching, dramaturgy, acting through song, external moderating and examining, audition preparation, and lecturing in musical theatre history.
His permanent posts have included Arts Educational (London), Guildford School of Acting, Laine Theatre Arts, and the London College of Music.
Ben has also worked for the Royal Academy of Music, Trinity Laban, Mountview Academy, the London Academy of Music and Dramatic Art, Drama Studio London, and Starquest Performers College. He has lectured in musical theatre and opera for universities including London, Surrey, Kingston and Portsmouth. He is also a visiting coach and accompanist at Streatham and Clapham High School.
SINGING TUTOR, VOCAL COACH
Ben has worked as both singing teacher and vocal coach for over twenty years, teaching singing in many of the major performing arts colleges. He is highly experienced in helping students and professionals prepare for auditions, and has sat on the audition panels for Arts Ed, Guildford School of Acting and Laine Theatre Arts.
Ben also has experience in safely training and developing younger voices, and was the principal singing tutor at Shrewsbury House School from 2005 to 2010. He is registered as a private teacher with the Incorporated Society of Musicians.
RATES
Ben's studio in South West London (Zone 6), contains an extensive library of musical theatre and classical scores, a Steinway B grand piano and Yamaha U3 upright piano.
Ben also has occasional slots available for piano students (Grade 6+).
Present rates: £50 per hour. £40 per 45 minutes. Former students of Ben's and those in full-time education are eligible for a 10% discount.
Accompanist / Repetiteur
Ben has worked with countless singers and instrumentalists in concerts up and down the country for over twenty years. He has been accompanist to international soprano soloist Alison Pearce for most of that time, and has been a tutor on Miss Pearce's annual summer schools in Italy and France since 2005. He particularly enjoys working with singers, and in concert has accompanied performers including Michael Chance CBE, James Bowman CBE, Robin Blaze, Joanne Lunn, Peter Savidge, Janet Shell, Adrian Clarke, Mark Dobell, Bryan Husband and many others.
Ben is pleased to be one of the regular pianists for Cantabile (The London Quartet).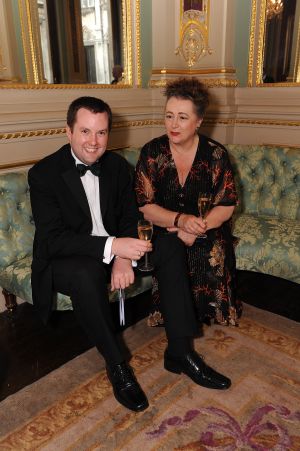 Ben Costello and Alison Pearce
at WCM Livery Dinner - June 2009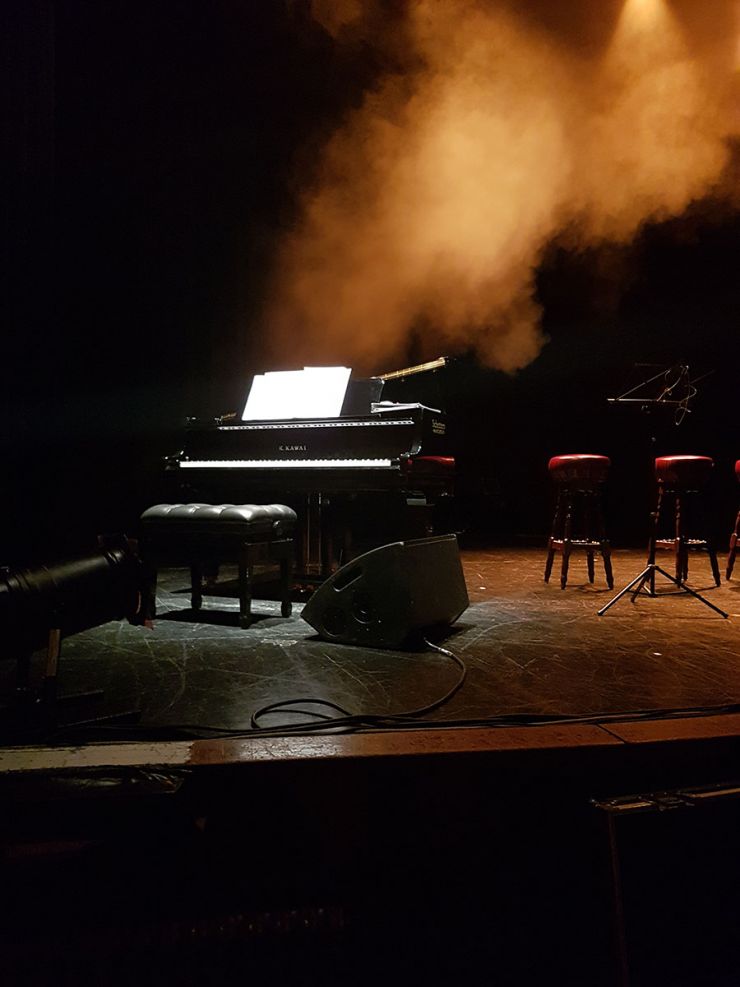 PERFORMANCES
In 2001 Ben was selected for the London Symphony Orchestra / Nordell Conducting Masterclass This led to work as a répétiteur for the Orchestra, collaborating with conductors including Lorin Maazel and Sir Colin Davis, playing for the latter in rehearsals for the Orchestra's performances and recording of Britten's Peter Grimes. As an orchestral pianist he has been involved in performances of works including Respighi's Pini di Roma, Britten's Noye's Fludde, Canteloube's Chants d'Auvergne, Stravinsky's Symphony of Psalms, and has also performed the substantial piano duo parts in Rossini's Petite messe solennelle, and Orff/Killmayer's Carmina Burana. He is an experienced continuo player (with his own two-manual concert harpsichord) and has directed performances from the keyboard of Purcell's Dido and Aeneas and Blow's Venus and Adonis. Since 2008 he has been the principal deputy organist at the Actors' Church, Covent Garden, and also regularly deps at All Saints', Tooting, and St John the Divine, Kennington.
ADJUDICATION
Ben has been a busy music adjudicator since 2008, working throughout the UK and internationally as a generalist music adjudicator for the British and International Federation of Festivals. He adjudicates all musical disciplines while specialising in singing, piano, choral music and musical theatre. Much of his adjudication work also involves delivering masterclasses and workshops. Ben is also a Music Deputy on the Adjudicators' Council, and has presented at three Federation conferences (2014, 2016 and 2018). He is a member of the recruitment panel assessing potential new adjudicators, and also acts as a mentor for adjudicators starting out 'in the field'.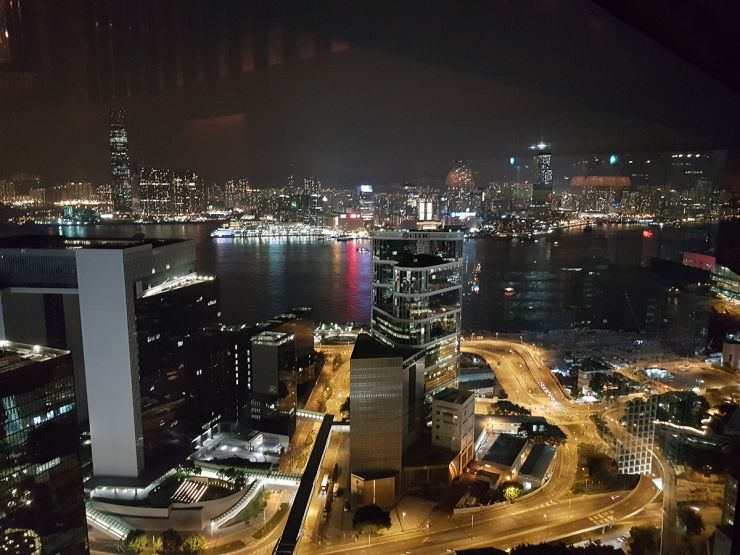 View from the Hong Kong Club (adjudication trip)
BOOKINGS
As of mid 2020 Ben has adjudicated at, or is booked to adjudicate at the following festivals (numbers indicate the number of visits): Overseas festivals: Corcaigh Feis Maitiú (1); Hong Kong (1); Sri Lanka (3); Zimbabwe (1); Gibraltar (1); Newry (1). UK Festivals: Arun (2); Ayrshire (1); Blackheath (1); Bromley (1); Bournemouth (1); Chelmsford (1); Cheltenham (1); Chipping Norton (2); Cornwall (1); Coulsdon and Purley (1); Croydon (2); Derby (1); Devizes (3); Ealing (2); East Grinstead (1); Hart (3); Hastings (3); Holywood, NI (1); Horsham (3); Hounslow (1); Indian Queens (Cornwall) (1); Inverclyde (1); Isle of Wight (2); Leith Hill (3); Lincoln (1); Maidenhead (2); Maidstone (2); Manx (Isle of Man) (1); Marlow (1); Mid-Somerset (5); Mid Sussex (1); Milton Keynes (2); Reigate and Redhill (5); Richmond (3); Rochester and North Kent (3); Sevenoaks (2); Southampton (2); Southend (1); Stratford (2); Sudbury (1); Suffolk (4); Sutton (3); Taunton (2); Watford (2); Weymouth (1); Woking (4); Worcester (1); Worthing (4). Schools: The Abbey (Reading); Epsom College; King's College (Wimbledon); Kingston Grammar School; Kingston Primary Schools' Competition; St John's (Leatherhead); Surbiton High; St Catherine's (Bramley); Tiffin Boys' School (Kingston); St Benedict's (Ealing); Wimbledon High; The Dragon School (Oxford).
MEMBERSHIPS
Worshipful Company of Musicians (Liveryman since 2014). Chairman and organiser of the Company's annual Musical Direction Scholarship. Member of the Popular Music Committee. Elected a Steward in 2018
Royal Society of Musicians (Life Member since 2008). Member of the Court of Assistants from 2011 to 2018
British Voice Association (Member)
British and International Federation of Festivals (Adjudicator Member)
Royal Society of Arts (Fellow)
Performing Right Society (Member)
Incorporated Society of Musicians (Member)
Freeman of the City of London
QUALIFICATIONS
M.A. (by research)
P.G.Dip. (conducting)
B.Mus. (piano; singing)